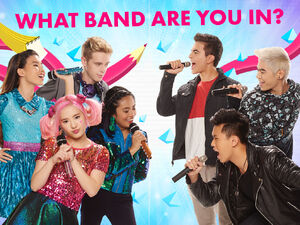 What Band Are You In?
is a game/quiz on the official
Make It Pop
website.
Description
What Make It Pop band are you in? If you take this free online quiz, you'll find out! In Make It Pop What Band Are You In, a fun online quiz game, you'll be asked to answer a series of questions in order to help determine if you'd join XO IQ, along with Corki, Jodi and Sun Hi or if you'd join L3, along with Alex, Linc and Darmala.
Questions
Pick a look!

Punk
Grunge
Colorful !
Preppy

Pick an instrument!
What kind of music do you like?

Pop!
Classic rock
Hip hop
Metal

Pick a stage

Stage
Studio
Catwalk
Dance floor!

Pick a hand sign
Pick a Chip face!
Pick an accessory

Combat boots
Choker!
Boa
Cat ears

Pick a headline

"Divas do it better!"!
"Rockers top charts!"
"Boy bands break hearts!"
"Gal pals get signed!"

Pick a mic
Results
XO-IQ: You're in XO-IQ! You're fun, energetic, and you have talent galore! It's no surprise that you're the perfect fit for this band of BFFs. Get ready to join Sun Hi, Jodi, Corki and Caleb on stage to Make It Pop!
L3: You're in L3! Justl ike Alex, Linc and Darmala, you're all about cool. You love rocking out and know how to get the crowd super pumped up with your awesome jams. Get ready to shred!
Gallery